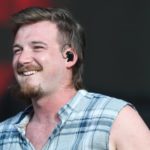 Rapper Lil Durk and Morgan Wallen shut down Lower Broadway and Jason Aldean's Kitchen + Rooftop Bar in the music video for their viral single, "Broadway Girls."
Wallen first teased "Broadway Girls" in early October with a snippet of the track on social media. On Monday (Dec. 20), the GRAMMY-nominated rapper and country hitmaker surprised fans with the release of the new music video, directed by Jerry Productions and Justin Clough.
Take a look at the video for "Broadway Girls" – here.
Lil Durk & Morgan Wallen Share Video for New Single 'Broadway Girls': Watch
Editorial credit: Debby Wong / Shutterstock.com