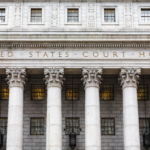 Nancy Salzman, a former nurse who co-founded and once ran the cult-like NXIVM group, was sentenced Wednesday to 42 months in prison. Salzman, 67, the former president and co-founder of NXIVM, must also pay a $150,000 fine. Salzman has agreed to forfeit more than $500,000 in cash, several properties and a Steinway grand piano.
U.S. District Judge Nicholas Garaufis ordered that Salzman must report to prison by Jan. 19; her lawyers said she has been caring for her ailing mother. Salzman's crimes involved stealing identities of the group's critics and hacking into their email accounts from 2003 to 2008, prosecutors said. She was also accused of conspiring to doctor videos showing her teaching NXIVM lessons before the recordings were turned over to plaintiffs in a New Jersey lawsuit against the group.
Speaking in Brooklyn federal court, Salzman said she fell under NXIVM leader Keith Raniere's spell when they started working together 20 years ago and that she started rationalizing and overlooking the wrongdoing she saw around her. Salzman pleaded guilty in March 2019 to charges of racketeering conspiracy that involved conspiracy to commit identity theft and conspiracy to obstruct justice. She was one of the first in the group's leadership to plead guilty to criminal charges. Raniere was sentenced last October to 120 years in prison for turning some women into sex slaves branded with his initials and sexually abusing a 15-year-old.