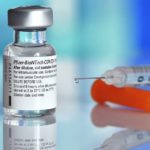 The US Food and Drug Administration has fully approved the Pfizer/BioNTech Covid-19 vaccine for people age 16 and older, and authorized it for people as young as 12. However the agency is warning against using the vaccine "off-label" in children younger than 12, saying it "would not be appropriate." The Pfizer/BioNTech Covid-19 vaccine is not currently approved nor authorized for children younger than 12, and the appropriate dosage for this age group has yet to be determined.
'Off-label' refers to an approved product being used in a way or in a patient that it wasn't necessarily approved for; it happens commonly with some drugs, such as when a chemotherapy approved for one type of cancer is used to treat a different type.
The FDA and the American Academy of Pediatrics (AAP) both strongly recommend that all eligible adolescents ages 12 to 17, be vaccinated as soon as possible, especially as the highly transmissible Delta coronavirus variant continues to circulate nationwide. As of last week, the AAP reported 180,000 new cases of Covid-19 among children and adolescents, according to the Academy. Currently approximately 8.5 million or 34% of all adolescents ages 12 to 17 are fully vaccinated against Covid-19.
Editorial credit: Daniel Chetroni / Shutterstock.com