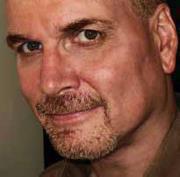 Weekdays 3pm to 7pm.
---
Lee "Scooter" Reynolds has been the Program/Music Director of Hank for a mighty long time.

"I've programmed a lot of radio stations over the years, but these are my roots. Growing up, Country music was always on in my house.  Grandma would break out some Tennessee Ernie Ford every Sunday, and I'd sit up on the combine with Grandpa, talking and listening to the local Country station while he worked the fields.
My first real job in radio was at an AM Country station in Grand Forks, North Dakota.  The station was out in a corn field.  We'd open up the doors at night and crank it up for the prairie dogs.
When I listen to HANK, it's always set to 11."